We are rolling out the biggest feature update to Sugar Calendar yet; Time Zones for Events and Calendars!
We are excited to announce the immediate availability of Sugar Calendar 2.1. It comes with a brand new "Time Zones" settings subsection, complete with 3 new settings:
Time Zones: off, single or multi

Off: the default, existing time zone data still appears
Single: allows Events to have one time zone
Multi: allows Events to have different start and end time zones

Default Time Zone
Visitor Conversion: enable/disable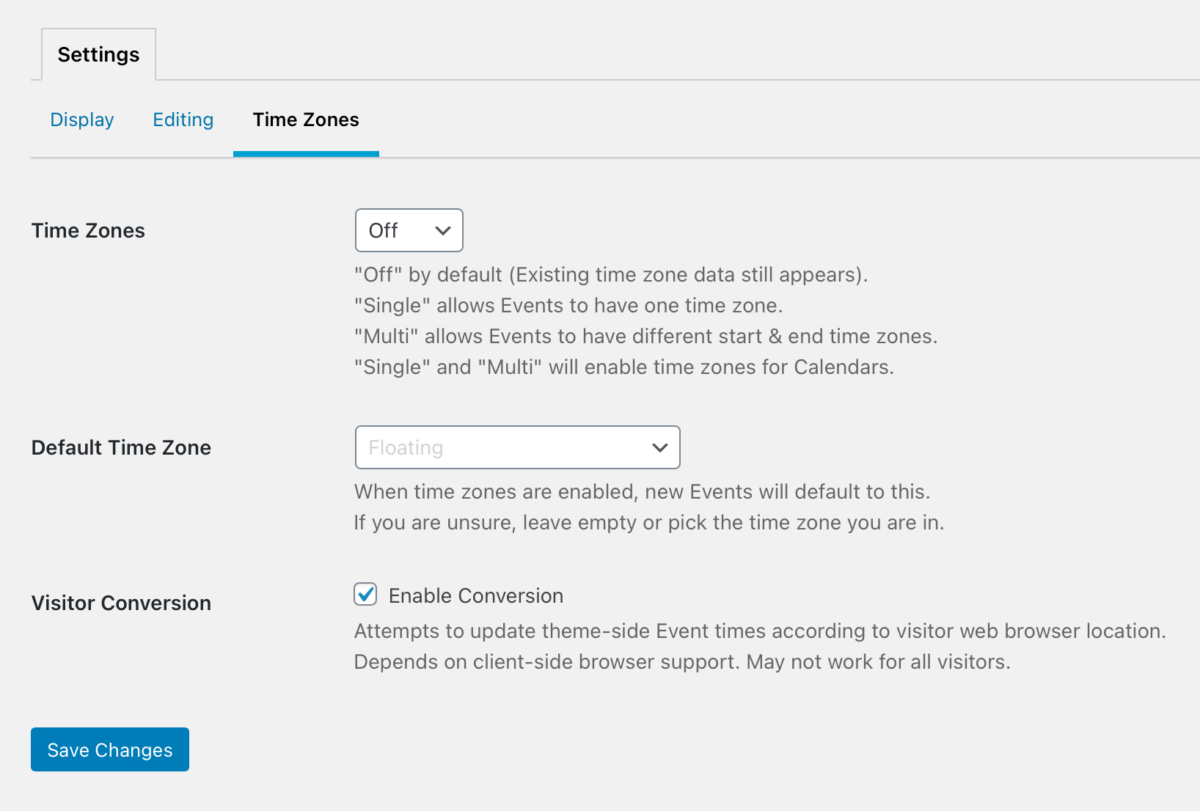 Once enabled, you'll be able to specify a time zone for Events and Calendars. This comes in super handy when your audience spans multiple locations and you want to avoid confusion about what local time things start and end at.
Maybe coolest of all, when Visitor Conversion is enabled, times on your Event pages will instantly be updated to reflect that visitor's time zone, as long as their web browser supports it. We've also embedded some extra information into our <time> tags to make this possible:

Bug fixes
Sugar Calendar 2.1 also fixed a few bugs reported from Lite users in the WordPress.org support forums and by license holders to our support team directly. Thank you for helping to make Sugar Calendar more awesome!
Calendar Feeds 1.1.6
We released a minor update to our Calendar Feeds pro add-on, and it now takes full advantage of the great time zone support added in 2.1.
Feeds now include time zone metadata in them, so external calendars know exactly how to calculate offsets to your subscribers all around the world.
---
What's next for Sugar Calendar?
Advanced Recurring
We're starting to beta-test this add-on internally, and the plan is to release the very first version by the end of the year! Stay tuned!
Version 2.2 started, what do you want it to have?
Feature development for version 2.2 of Sugar Calendar starts now! If there is anything you'd like us to prioritize, reach out and let us know either via our support team or on GitHub.
Stay connected
And, as always… please consider signing up for our email list to get future updates from us right in your inbox!